Robotic pool cleaners have made pool cleaning a breeze for homeowners. But which robotic pool cleaner is the best? In this article, we will guide you on how to pick the best robotic pool cleaner. We will also share our top picks with you.
Why do you need the best Robotic Pool Cleaner?
A robotic pool cleaner will thoroughly and systematically clean your swimming pool.
It will effectively remove any dust, dirt and debris.
It performs efficiently. In a few short hours your pool will be sparkling clean.
The features and technology that a robotic cleaner use saves time on manual cleaning
Compared to suction cleaners, robotic cleaners run advanced software enabling a thorough clean.
Which Robotic Pool Cleaner is Best - Features to Look for
Thorough Cleaning - The majority of dust, dirt and debris settle to the pools floor. Therefore, a robotic cleaner that cleans the floor thoroughly is essential.
Energy Efficiency - Robotic cleaners that use advanced technology use less power than those basic alternative robots. Be sure to choose a robotic pool cleaner that runs state of the art software.
Easy to Use - You can find robotic pool cleaners that are compact in size and easy to use. Simple and easy to operate is an important factor when choosing a robotic pool cleaner.
Cleaning Efficiency - Some cleaners operate for 2 hours; others need a much longer time. A robotic pool cleaner that can provide efficient cleaning in a few hours or less and that may only need to be used once or twice a week will last for years and years of hassle free cleaning.
Which Robotic Pool Cleaner is Best - Our Top Picks
Among the most popular brands selling in the mainstream Australian market, we love Dolphin Pool Cleaners. The brand offers a variety of robotic pool cleaning options.
The M-Series robotic pool cleaners are durable, efficient and provide an effective pool cleaning.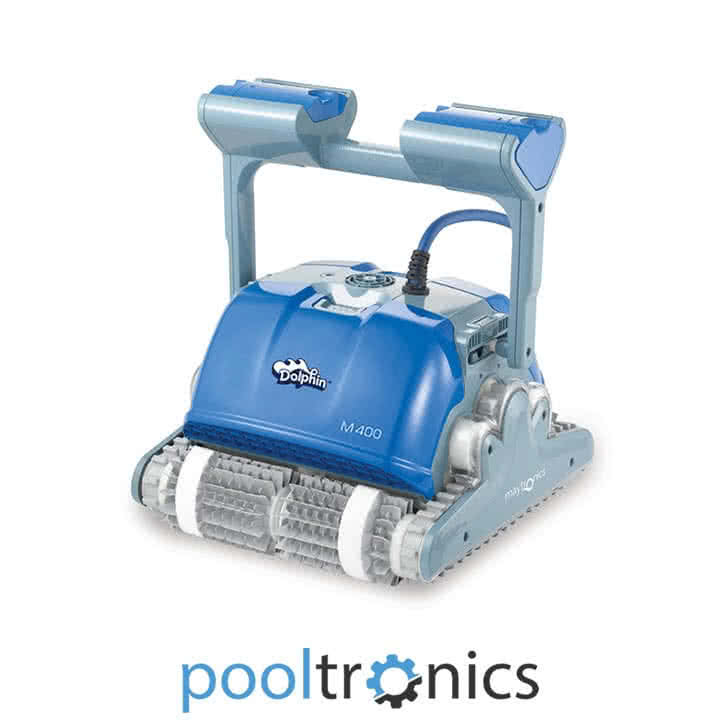 Dolphin M400 Pool Cleaner
Cycle Time - 2.5 hours
Warranty - 36 months
The Dolphin M400 comes with a dual drive motors. It is ideal for cleaning pools up to 12m in length. The robotic pool cleaner will climb up the walls of your pool, and use its active brush to capture all dust dirt and debris.
The cable has a anti-tangle swivel system which ensures you never have to worry about a tangled cable. Sit back and relax as the cleaner does all of the hard work cleaning your pool.
The Dolphin M400 is easy to use, and easy to clean. The twin top access filter system allows for a quick and easy handling.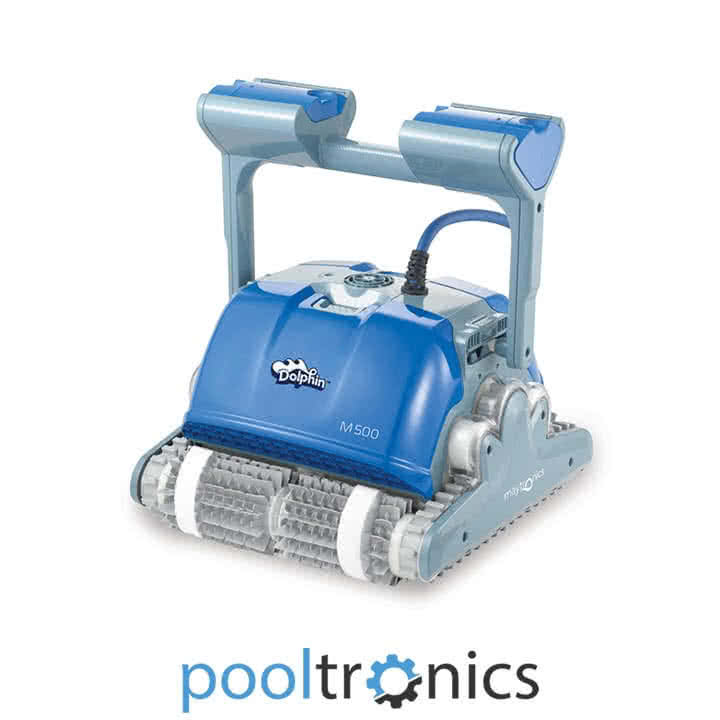 Dolphin M500 Pool Cleaner
Cycle Time - 1.5 / 2.5 / 3.5 hours
Warranty - 36 months
Pool cleaning becomes super easy with this smart robotic pool cleaner. The Dolphin M500 connects with Bluetooth and allows full control via the MyDolphin App. The app allows you to make handy adjustments, select different cleaning modes or change cycle times, set up an automated weekly timer and even manual drive for spot cleaning.
It is perfect for cleaning the floor and waterline of pools up to 15m in length. The best feature is the dual filtration system that captures all rough and fine dirt.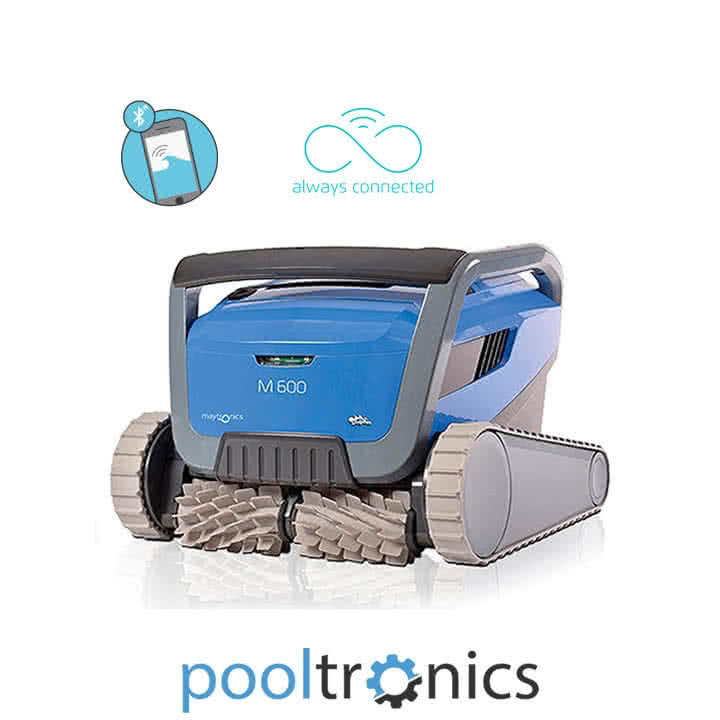 Dolphin M600 Pool Cleaner
Cycle Time - 1.5 / 2 / 2.5 hours
Warranty - 36 months
Next on our list is the Dolphin M600 robotic pool cleaner. This cleaner uses advanced scanning navigation. The smart software system ensures that the floors, walls and water line of your pool will be clean and sparkling.
With Wi-Fi and the easy to use MyDolphin Plus app, operating the robotic cleaner and changing its modes is very simple. The coolest feature of M600 is its 'Pick Me Up' Mode. Once your pool is clean, this features helps to retrieve the robotic pool cleaner by it driving up the wall and sitting at the water line waiting for you to easily remove.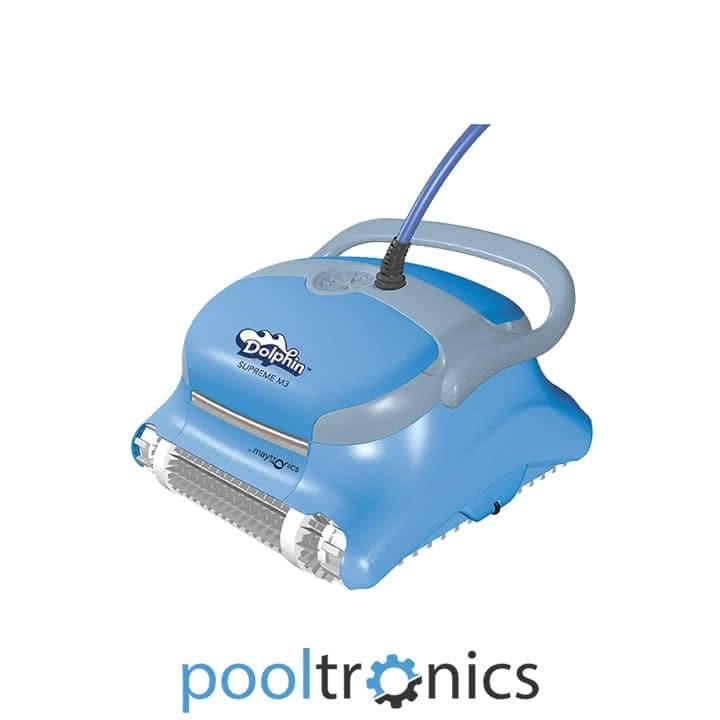 Dolphin M3 Pool Cleaner
Cycle Time - 3 hours
Warranty - 24 months
If you are looking for an entry level robotic pool cleaner, Dolphin M3 is the right choice for you. It works well in smaller pools that measure up to 10mm in length.
It is efficient and can clean the whole pool in 3 hours. This is a floor only cleaning robot, concentrating on the floor where most of the debris rests.
Last Words…
Having a pool in your home is a luxury. But cleaning a pool is a labours task. Thanks to Dolphin technology, robotic pool cleaners are here to make our lives easier. We hope this article is helpful. For more in depth information please contact Pooltronics, your Dolphin robotic pool cleaning experts.