Dolphin Robotic Pool Cleaners are Melbourne's best brand of robotic pool cleaners. And, we are not surprised… Dolphin pool robot cleaners are available in a wide variety of models. Their models offer amazing features and benefits.
Robotic pool cleaners by Dolphin are designed to make pool cleaning easy. So, sit back and relax while your Dolphin robotic pool cleaner cleans your pool systematically and efficiently leaving it sparkling clean. In this article, we will outline in detail about the best selling robotic pool cleaners in the market.
Why Choose a Robotic Pool Cleaner?
Automatic robotic pool cleaners are a homeowner's first choice. There are a couple of other types of automatic pool cleaners. These include:
Suction pool cleaners - they use the power form the pools pump to remove dirt and debris. They are attached to the skimmer box of the pool.
Pressure pool cleaners - they work like suction cleaners. However, they attach to the water return side of the pool.
Downsides of Suction & Pressure Pool Cleaners
The cleaners are automatic, but they don't use a navigation system or smart technology. So, you cannot expect them to work as efficiently and effectively as the robotic pool cleaners.
Both cleaners use the pools power as their energy source. Sometimes, pools have lower output pumps. In those cases, the cleaners won't generate enough suction power resulting in underperforming cleaning.
Robotic Pool Cleaners - The Difference
Comparatively, robotic cleaners are powered by their own low voltage power supply. They perform irrelevant to whether pools have low output pumps. Because of this reason, they are more efficient and reliable over the long run.
Robots are smart and super easy to use. This ensures that you get fast and effective cleaning every time.
The purchase of a robotic pool cleaner is a considered investment.
Why are the Dolphin Robotic Pool Cleaners the Best?
After testing dozens of cleaners, we have found that nothing surpasses the quality of Dolphin. And here is why…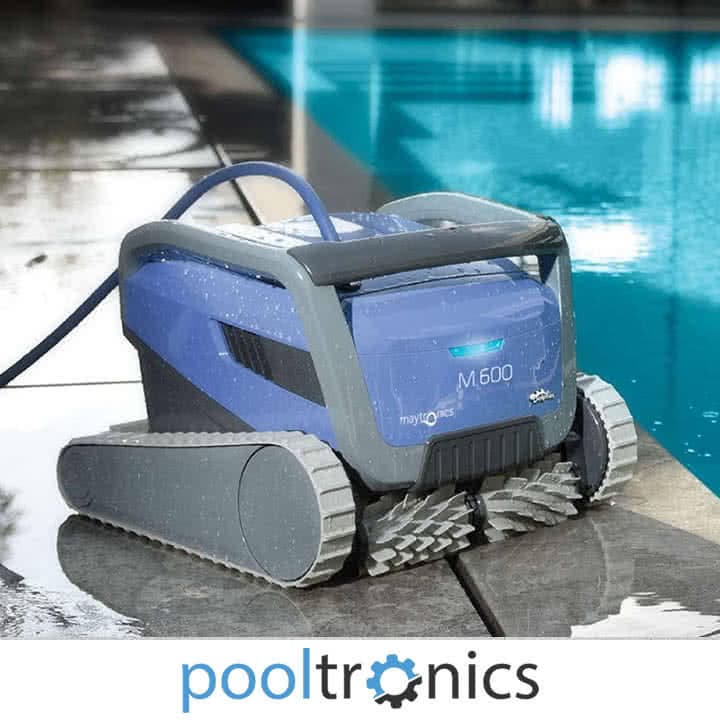 Smart Technology
Dolphin M600 Pool Cleaner
(Wi-Fi connected)
Dolphin robotic pool cleaners use smart technology and advanced navigation systems. This allows them to navigate the pool without becoming stuck on obstacles such as steps and ledges. They are easy to use. The M600 can connect with Wi-Fi allowing full and access to additional features via the My Dolphin Plus App.
This makes it easy to operate and control the pool cleaner. If there are steps, poles or other obstacles in your pool, choose a Dolphin robotic pool cleaner with advanced software navigation systems.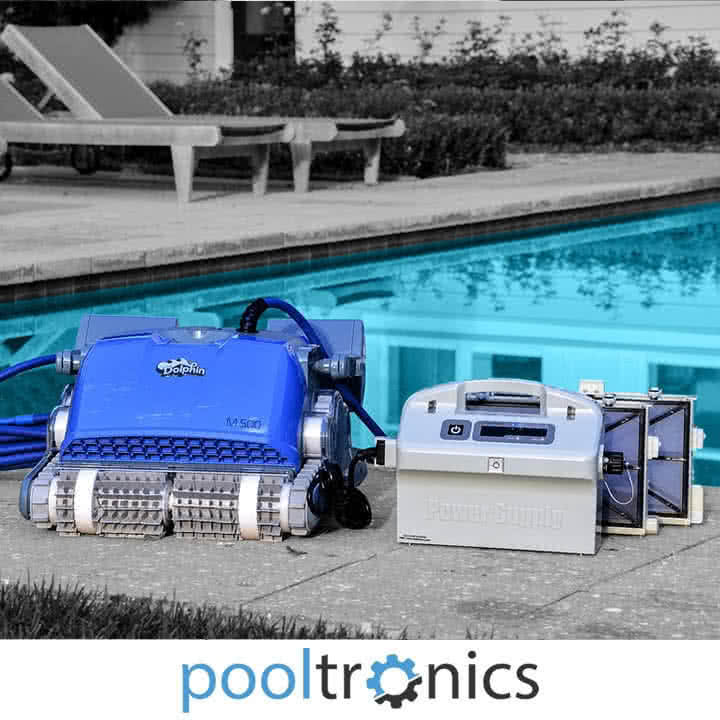 Filtration
Dolphin M500 Pool Cleaner
(with Dual Filtration System)
Dolphin robotic pool cleaners can come with different types of filters. Some models are designed with cartridge filters and others operate with filter bags.
Filter Cartridges - They are super easy to clean. Choose between fine and ultra fine filter screens.
Filter Bags - They have more capacity and can filter down a finer particle, but are not as easy to clean.
So, if your pool gets lots of debris like small objects, leaves, and twigs, choose a Dolphin with top loading easy to clean cartridges. You can't go wrong with the Dolphin M500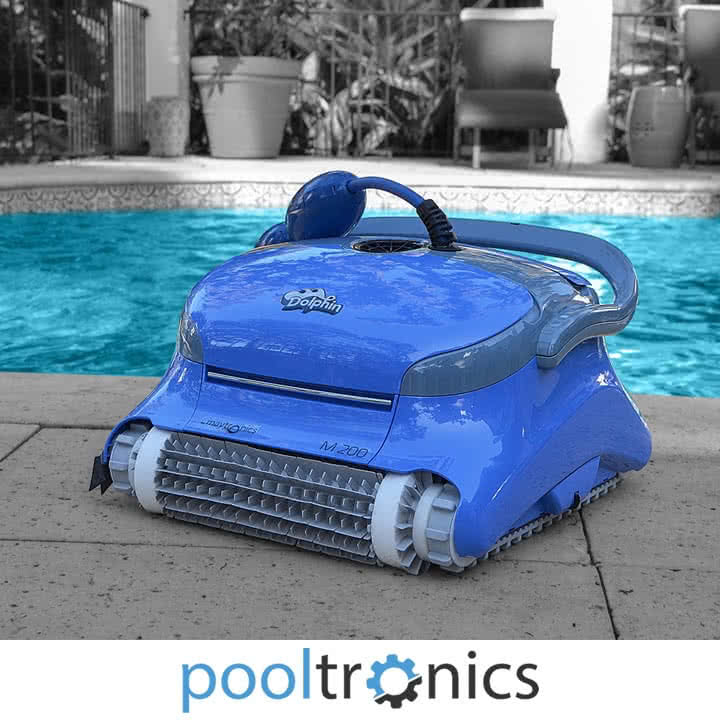 Entry Level
Dolphin M3 Pool Cleaner
(Robust Floor Only)
Robotic pool cleaners range in price depending on performance and features. Some pool owners can be reluctant when considering the purchase of a Dolphin pool robot cleaner. We understand and here's are a few ways to look at it:
Cleaning a pool is not easy. Most people hire someone to clean their pool for them. Investing in a Dolphin pool robot will save that cost.
They come with a great warranty of 2 to 3 years. This provides piece of mind
They save energy, water, and money by reducing the need of buying cleaning chemicals.
They are very long lasting and durable. A dolphin pool cleaner can last you many years.
Spare parts are readily available. So after any general wear or tear you can replace the parts as required to restore your Dolphin to optimal and operational condition.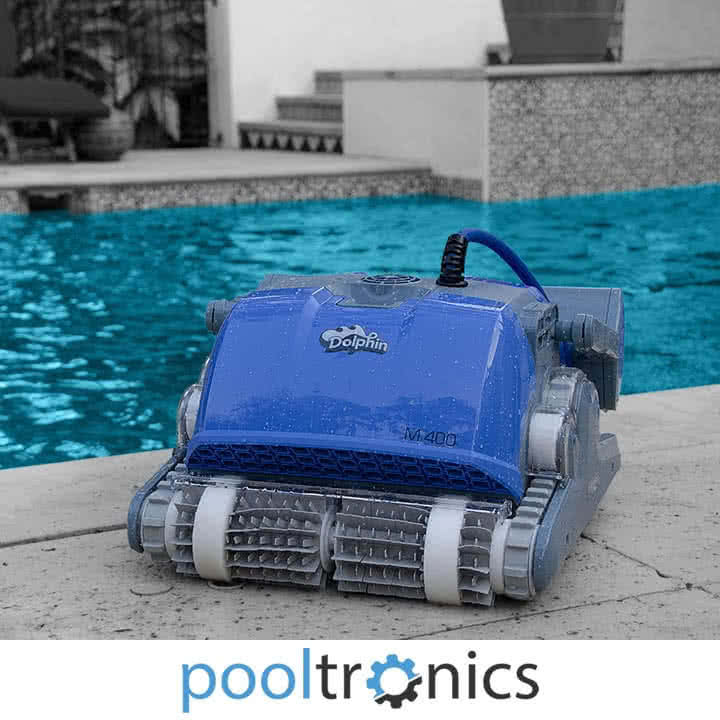 Pool Size & Surface
Dolphin M400 Pool Cleaner
(Works for Pools up to 12m in length)
At first thought you may be considering to purchase the cheapest model of robotic pool cleaner. Dolphin have a wide range of robotic pool cleaners available for all pool types, surfaces and size. Before investing in a Dolphin you may want to consider which model may be best suited to your pool surface and size to ensure comparability before comparing price.
Last Words…
We hope this article will help you in choosing the best Dolphin robotic pool cleaners. Remember to look for features that offer maximum functionality. Also, look for a Dolphin pool robot cleaner that performs its job in the least amount of time.