Maytronics has set the standard for innovative pool cleaning technologies for decades. Now, the robotics company is set to dominate the automatic commercial pool cleaner market with the Dolphin Wave range.
Established in 1983, Maytronics pioneered automatic robotic pool cleaner technology. Dolphin robotic pool cleaners are well known for their reliability and innovative features.
Maytronics new Wave range sets a high bar for automatic commercial pool cleaners. Options start at the Dolphin Wave 75 pool cleaner, which is a lighter weight design perfect for small to medium sized pools up to 15m in length. The Wave 75 is an ideal sized cleaner that packs the punch of the Wave range into a compact unit. The Dolphin Wave 100 pool cleaner provides highly efficient fully automated robotic pool cleaning for hotel, motels, swim school and commercial facilities with pools up to 25m in length. There is also the Wave 150, delivering long-lasting reliability and the best wall-to-wall cleaning in it class cleaning larger institutional pools up to 35 meters in length.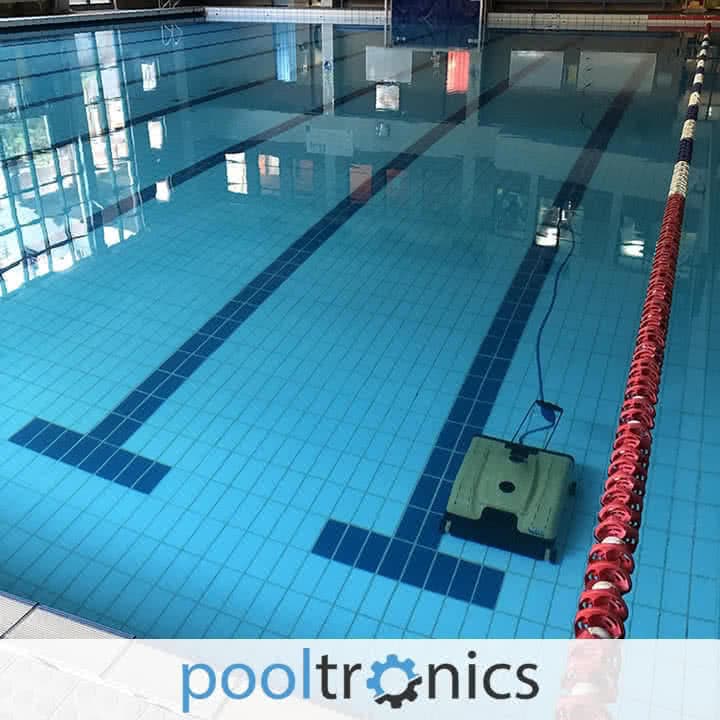 Consider some top of the range options if you have a large pool that requires an intense clean. The Wave 200XL and Wave 300XL commercial robotic pool cleaners boast the strongest suction power in the range. The Wave 300XL is the ideal robotic cleaner for large institutional pools, olympic facilities, water parks and other commercial sites with pools up to 60 meters.
Let's take a deeper look into what makes these commercial automatic pool cleaners unique.
Commercial robotic pool cleaners for every task
Not every pool cleaner is the same. But, you will find some consistent high quality features across the Wave range. Starting at the Wave 75 all the way up to the Wave 300XL, you can make use of some cutting edge technology.
The Wave 100 features a 30m cable which is perfect for pools around 20-25m in length. This entry-level Wave cleaner is ideal for small to medium sized commercial pools. It also packs some key innovative features available throughout the Wave series.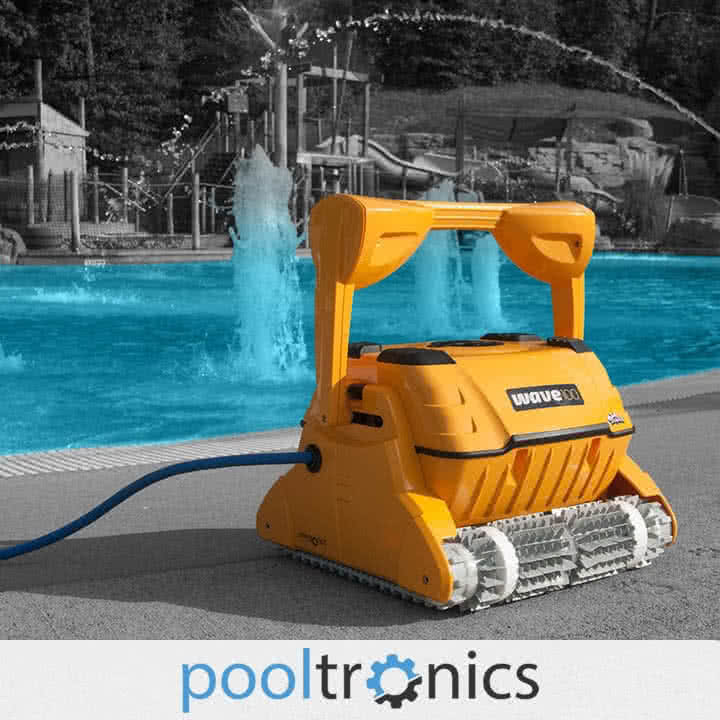 The Wave 100 has a self contained filtration system with three filter bag micron options. This will effectively collect all types of dirt and grime from your commercial pool floor. High quality easy clean filtration bags give you the option to clean the Wave 100 filters time and time again, hassle free.
The Wave 100 includes a hand held remote that gives you full control of your automatic pool cleaner, customising your clean on the go. The Wave 100 uses Maytronics Dolphin innovative dual action brushes for more thorough clean. The dual action brushes are consistent throughout the Wave range. We've established some of the similarities across the Wave range.
Now let's take a look at which cleaner you should pick to suit your commercial pool.
Use the right automatic commercial pool cleaner for the job
The key difference between the Wave 100 and 150 models is the extra cable length and the 150's cyclonic top access filter canister. With the 150 model you will have a 43m cable, which allows increased coverage across larger pools. The 150 model is a heavier duty highly efficient machine, making it perfect for a thorough clean of your commercial pool.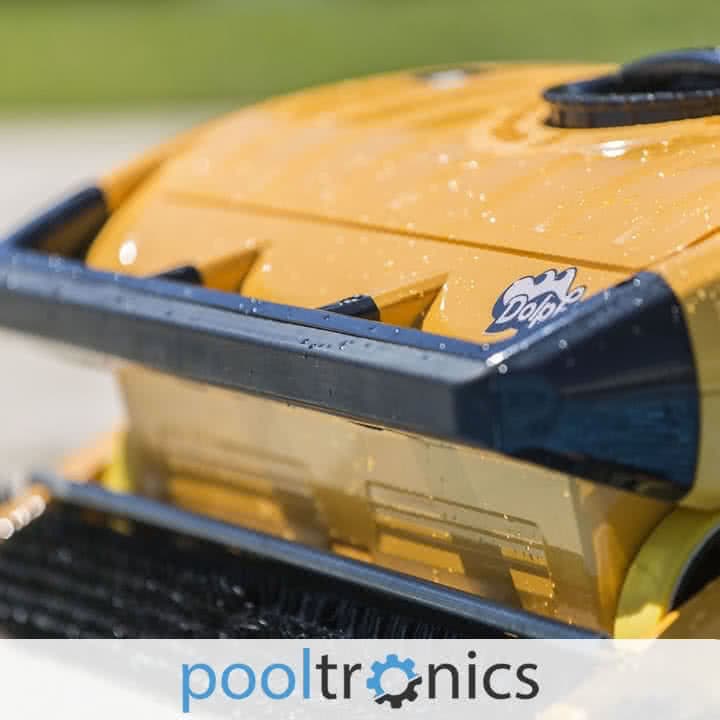 On to the Dolphin Wave 200XL - with this model you can harness some intense suction power. The motor produces a powerful suction rate of 34 m3/h. The Wave 200XL also features a spiral 2 layer filtration system, so you can unleash it on your dirtiest pool surface.
The Dolphin Wave 300XL is a top of the range robot with an MMI (Man-Machine Interface) control panel. This beast of a machine forks out a 40 m3/h suction rate. It also comes with a 43-50m cable that is ideal for olympic sized commercial pools up to 60m in length. The 300XL features the most advance MMI user-interface available in the Wave range. It includes an impressive diagnostics system and an interactive digital interface.
There's a Dolphin Wave robotic commercial pool cleaner for every task
With automatic pool cleaners, you have the benefit of a quick and easy clean. They'll save you time, money and energy. Your pool will be spotless with effective brushing, suction and filtration. The Maytronics Dolphin Wave range will give you all these benefits and more. Each model is perfect for the right job.